Move to Thailand, The pursuit of happiness
Move to Thailand – I can start with a short presentation of myself. My name is Jan Bachmann and I was born in 1964 ie. I am 49 years old at the time of writing. I was born and raised in Silkeborg (Denmark), with a few single trips to Åbenrå (Denmark) and Cyprus, where I worked in BJ Music and as a UN Soldier (Cyprus) respectively. Here I will tell my story of why I made the decision to move my roots up and move to Thailand to work and live my life from November 1, 2013.
I've done a lot of different things throughout my life, and I've always lived by the belief that going to work would be fun. It must be a job at a company that in my opinion was either super interesting and where I was looking forward to getting up on Monday morning to meet my colleagues and do the work I would now be doing at the workplace. If you want to see other international dating websites click here.
I've tried many things in my life – Why move to Thailand
In short, I have worked in the store (expert radio and Stereo Studio) for 11 years. I had my own record store in the city of Odder (Denmark) and Silkeborg (Denmark). Worked in stock for Adidas. I have been a line manager at a production college, as well as an independent web designer.
For a short period been at a cake factory in Nørre Snede. I had a job as a bartender and DJ. For a while, I was a manager at a disco in Silkeborg. I also tried to be a customer advisor at TDC Internet. For a number of years, I was a consultant for Electronic Arts. Consultant for SONY Denmark.
I wrote lyrics for music and toured around Denmark with both a pop project, as well as being a "go-crazy man" in a techno project where we among other things, performed at the Skanderborg Festival back in the mid-90s. So you can probably see that I've been around a bit.
Started on entrepreneurship – Move to Thailand
Back in 2001, I was on a 4-5 month course in web design and marketing and was completely bitten by this. Shortly thereafter, I chose to start as a freelance web designer. At first with a friend, but after a year we wanted different things and I continued on my own because this was a lifestyle I was really comfortable with.
I had a few years to go with this, but one day I was called by a temporary agency to use a consultant in Jutland for something called EA GAMES (today Electronic Arts). I couldn't say no to that job offer, as it was a very attractive employment deal with many benefits.
And then it was really fun to walk around the shops and always be greeted with a smile as we usually had demo games with the staff. After EA GAMES (today Electronic Arts) I got a job at SONY Denmark where I drove around and serviced stores.
Traveled around and filmed for a travel company – Move to Thailand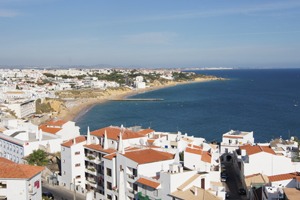 But I couldn't quite keep myself from being self-employed, so after being offered by a friend, traveling around, and recording hotel videos for a Danish travel company, I jumped into becoming full-time again. I have always had a great travel desire, and could see this as a great opportunity to get a lot of exciting experiences around the various destinations.
It was an enjoyable time, and I managed to film somewhere between 100 and 200 hotels on the Algarve coast, Costa del Sol, Majorca, and Turkey, respectively. It was hard work as we filmed from 9 am to 6 pm every day. After dinner, the movies were then edited until we went to sleep.
So leisure was not much, but when we took breaks, it was at various beach bars and the like, and then you did not really feel that you were really at work. But this also had to end, so I had to find a permanent job again, and here I was offered a job as a webmaster for a Danish company that sells corporate gifts and promotional items. I now have Jan travel Thailand as my primary YouTube channel.
I had the urge to live in a hot sunny country – Move to Thailand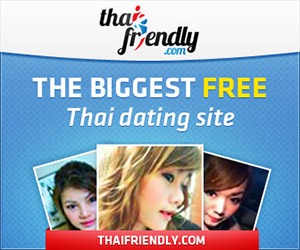 For a number of years, I traveled every summer with a good friend to the United States. The land of opportunities. It was everything from driving across from east to west, as well as driving around California and seeing all the major sights.
My elongation was now even greater, and I began to explore the possibilities of a Green Card for the United States. But when it got too close and I was called by companies that wanted a lot of money to help me further, I got cold feet and pulled the plug for that idea.
Afterward, I started taking my laptop with me when traveling on vacation around Europe and found that I could easily maintain my online projects even when I was abroad. I actually enjoyed sitting in the shade by the pool and working while all the tourists were cozying up around me.
A lovely lifestyle – Move to Thailand
This lifestyle was actually something that suited me because when I wasn't working, I was on vacation and it was warm and the sun was shining. It set my mind on living this way, and after reading the book "4 Hours of Work" written by Timothy Harris.
I was even more hooked on the idea that I could live anywhere in the world, and then still look after my online projects. That is why I started to look for opportunities for this to happen, but I did not quite know where to go and where I would be able to live this dream.
My first trip to Thailand – Move to Thailand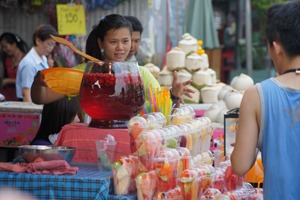 Fate wants me in the spring of 2013 to be invited to a birthday to be celebrated in Thailand. Since I had never been to Asia before, I had no idea what to expect or what met me out there.
Several in the group I was traveling with had been to Thailand many times before. I was particularly hooked on one of the things I was told about Thailand. Jan, you have to expect that your outlook on life and life will be radically changed after experiencing Thailand, and I thought in what way they meant it?
They told me that I would come to experience a culture and a way of life that was far from the one we live in at home in little Denmark.
Smile and hospitality in Thailand
You will be greeted with a smile and hospitality that you have not experienced before. But I would now see that with my own eyes before I believed this. I had traveled extensively in the United States in previous years and had also experienced great hospitality and a different attitude here than the one in Denmark.
A classic example of this is if you get a new smart car, or something else extraordinary. Such as a giant flat-screen TV or large house. So the attitude is often in Denmark that people look at you strangely and think which bank he or she has robbed to afford this.
While in the US, people could come up to you and say, hold up a cool camera you have there, how did you manage to afford this, and how cool is it to have such a camera. Can you tell me how I can afford to buy such a camera too?
My first time in Thailand
We came to Thailand, and right when I was walking in the street looking people in the eye, I got a smile back, fat. Whether it was the cleaning staff at the hotels I met, I always got a smile and a greeting. I also experienced something new that I have chosen to call Thai tempo. If there is something you have in Thailand, then it's time.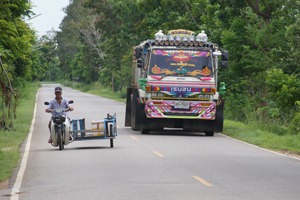 What we do not achieve today, that we achieve tomorrow, and every morning then a new day begins, where any screensavers from the day before are forgotten and it seems that you are living in Thailand… one day at a time.
On our trip, we were in Bangkok, Crystal Bay (In the luxury penthouse apartment on top of a 24 story high-rise building that was included in the broadcast series Hammerslag at one point). In addition, we were on Koh Chang, Thailand's 2nd largest island.
Here I got to meet by chance as I was surfing around the net to find info on the island of Koh Chang, with Danish affiliate marketer Dennis Kjærgaard, who had been living on Koh Chang with his Danish girlfriend for a while. years of time.
Since I am always very interested in expanding my network and especially in the area, I am passionate about called online marketing and affiliate marketing. Then I thought it would be incredibly exciting to hear Dennis' story of what he had done to live out his dream of living on a tropical island like Koh Chang.
We had a really nice talk in a couple of hours, and I was even more excited about my desire to live in a country with lots of sun and heat. The Danish winters that eventually last 6 months with frost almost every day, it was gradually hanging out of my throat.
The journey home from Thailand
When we were going home to Denmark again, we landed in Amsterdam and had 2-3 hours before we had to travel the last way back to Denmark, so we settled into a lounge where we had some food and drink. Here I suddenly saw that I had come to Europe again. There was a lady walking around and cleaning up the guests in the restaurant.
She just went and looked down into the ground and when we said thank you for cleaning up after us, just a low hum came in response. Not exactly what we were used to from the last few weeks in Thailand, where we were greeted with smiles all over.
Wow, I thought, is that really how we Europeans are? Of course, not everyone is sour and angry at home. But the cultural difference was evident, especially after just this particular experience.
What do I do now? Move to Thailand
After I got home and the worst jet lag had settled, everyday life came back into my life. Most of my friends were setting up family, having children, buying a house, car, caravan, and cottage, and when I was still single, yes, it wasn't much I saw for them anymore.
Beware, I could just invite them, but vice versa, they could too. But no sour mines, and it was not because we were enemies or anything, but it was just that the world developed around me, and then I thought that I had to do something about it because otherwise, I would fade completely into a boring daily life.
It must be said that I had tried several projects with several partners, but none of them had really succeeded, so now I felt it was time to do something drastic in my life.
So I made the decision and booked a return ticket to Thailand alone, where I had 20 days to travel around and find out more about the country and the Danes I knew little about, among other things. Amino.dk etc. who were residents and had made companies in Thailand.
I wrote again to Dennis Kjærgaard, who now lives in Chiang Mai in northern Thailand, as well as another guy I had had a little collaboration with before and who lived in Bangkok. I wanted to know their history and how they had done to come to live and work in Thailand. (My story continues below the video)
Be a part of my community on YouTube
If you want to be a part of my community on my YouTube channel Jan travel Thailand you can subscribe here. You are most welcome to add comments on my videos on my YouTube channel called Jan travel Thailand.
Tell me your ideas about videos from Thailand
You are very welcome to tell me where to go to Thailand next time. I am open to ideas of any kind. My trips are mostly to Pattaya, Jomtien, Hua Hin, Koh Chang, Koh Larn, Bangkok, Chiang Mai Etc.
Meetup in Thailand
If you are interested in meetups in Thailand I am always open to suggestions about meeting in Thailand. Hope to see you out there ;-).
Traveling alone in Thailand for 20 days
On July 10, 2013, I travel to Thailand alone with a reasonably open calendar and my laptop under my arm. I had made some arrangements to meet with various Danes who had settled in Thailand to hear their history and how they had done to live their dreams.
The background was initially to find out how I could subsequently move to Thailand and live off my online projects from there. But it soon became apparent that this plan changed a bit when I got to talking to people around there.
If I had to move to Thailand and live on my own projects, it would probably take at least a year before I had them up and running so I could live off of them over there. And as I fell more and more in love with Thailand on my current trip, my patience moved along with this.
I started looking at it from a different angle, where I would look for jobs with Danish companies instead. As well as using this approach to move to Thailand, because it was also much easier when I had a work permit because with this I could be in Thailand for 1 year at a time, without having to leave the country and have a stamp and an extension each 3rd month.
However, you have to go on immigration every 3 months to get a stamp so the world knows where you are.
Talked to many Danes in Thailand
I talked to some Danes who had settled in Thailand, both as self-employed with their own company, but also where they just worked for a Danish company over there. A guy my own age had lived in Chiang Mai for 1.5 years now, and he told me that he then had a weekday just like he had at home in Denmark.
A weekday of going to work every day, etc. but the difference was that when he was free, he was on vacation, he felt. I also noticed another thing while in Thailand, and that was the hospitality that I was greeted by the Danes who lived in Thailand.
It was as if they had accepted the hospitality of the Thais, and showed it to me and others who came by for the same reason as me. It was a really cool experience and they all happily told their version of how they had done to live their dream in Thai.
I sucked it all up as well as I could and decided to look for a job in Thailand with Danish companies. So I wrote a post on Amino.dk that I was looking for jobs in Thailand, and right now had the opportunity to meet them when I was traveling around the country right now.
Was for several job interviews in Thailand
It wasn't long before I had the first request from a Danish company in Pattaya. So when I was going past Pattaya anyway a few days later, we set up a meeting where I would meet with them for a talk about a possible event. employment.
Afterward, I also got to talk to Kristian Ole Rørbye, whom I had met in Chiang Mai the previous days about a job in his company in Chiang Mai, but there were just a few things that had to fall into place first before it could be done.
so it had to wait a bit. I went to Pattaya and got a chat with Jørgen Linnet who at the time had 2 other partners in a company down there. We got a good talk about things, and would subsequently assess whether it might be appropriate to make a collaboration.
Exciting people with the same hospitality as I had experienced elsewhere with Danes in Thailand. I had now become even more hooked on moving to Thailand to live and work.
Homecoming to Denmark
When I arrived home in my apartment in Silkeborg, I went in with my suitcases and put them in my bedroom, and then went into my living room. When I stood there and looked around my living room, it just smelled out of me … Don't stay here Jan, you should live in Thailand where there are sun and warm and happy people around you.
This is where I made the final decision that this was right for me. Filled with new impressions and ideas, I was now awaiting answers from those I had talked to in Thailand. I was now convinced that it was in Thailand that I would try to live my dream of living in a warm and sunny country.
I couldn't stand the thought of going through another long, dark, and cold winter in Denmark. So I booked time with my doctor so I could start the vaccines needed if I were to settle in Thailand. I started researching insurance, listening to the National Register on how to behave.
I started to clean up my storerooms, and throw out and put things that I shouldn't use for sale, both online, but also in the trunk market in Silkeborg (Denmark). It's amazing what you can sell in such a trunk market ;-).
Thanks to the system in Denmark
I had been unemployed for a year now and suddenly an email from my Union KRIFA appeared. Here they told me that they had found 26 weeks of unfinished unemployment benefit period with 2006 employment. This period they had then put on top of my current unemployment benefit period, so I suddenly had only 2 weeks left of my unemployment benefit period, so now good advice was expensive.
However, I could choose to close my CVR number over the past 12 years, and then apply for another 12 months on top of my current unemployment benefit period, and I felt so compelled to do so. It should be said here that I had previously suggested my a-box to find a half-time job, and then have the rest of the time as self-employed, but then they would mean that I should be half-assured, and they would not recommend that I do.
I simply suggested this so that society would not be burdened by me financially, but when I was met by this attitude, I continued to be a "burden" to society by getting full-time unemployment benefits. I didn't really feel very well treated after these episodes with the unemployment benefit system, and it just motivated me even more to search for my dream of living in Thailand.
When applying for jobs around Denmark, I was often met with an answer that they had chosen a new graduate instead of me and that even though I fully lived up to the qualification requirements that were set, which I obviously couldn't quite understand.
I had 12 years of practical experience with web design and online marketing, but maybe they thought I was too old ;-). However, it must be said that today I do not feel like a day over 25, despite my 49 years, but with a lot of life experience, and I also love to work with colleagues younger than myself.
I again had to take the matter into my own hands
The weeks went by and I waited and waited for answers from any of the ones I had talked to in Thailand, so I decided again to take the case on my own, for something to happen. So I grabbed the phone and started calling around to the Danish online companies I had heard about on my last trip.
Here they also got a really good talk with the ones I now got hold of. They were actually all open to a collaboration, but it was a bit mixed with when they could need labor and so on.
Then one morning there was an email in my mailbox from a Danish online company that offered me a position in their company, and after a bit of correspondence back and forth, I chose to say yes thanks to the job offer. The next day I was given up my apartment and I could now plan to go to Thailand and work from November 1, 2013.
COOL!!! My dream had come true, and I could all thank myself for being proactive and having seized the various opportunities to get a job in Thailand. But also with great help from the Danes I had met on my 2 trips to Thailand in April and not least in July 2013.
All the convenience of a move to Thailand
Now I really needed to organize my move, and I had to, for example. figuring out how much luggage I could have with the airplane. I had to fly with KLM and China Airways, so I called China Airways to hear if I had to carry an extra suitcase and what it would cost.
I also really wanted to have my iMac 27 ″ with it, because it's a great tool for me. However, it was quite impossible to get an extra suitcase, nor was it something I could pay off, so this was excluded. However, I was able to carry my iMac 27 ″ as hand luggage as I had purchased a large shoulder bag for this one. Well then ;-).
Then it was in place. Now I had to find a place for storage and there were many options. For I could both get a locked room with my own padlock, or I could choose the cheaper solution to get a booth next to many others that had booths in the same room, but where would then have to be paid for each time you went into his cases.
When I had to move to Thailand, I chose the last and cheapest solution which ended up costing kr.270 per day. month in rent. It was an affordable amount, and then I had 9 cubic meters to deal with. Then it was in place.
I had to use a Non-emigrant B visa for the first time in Thailand, so here I would need an invitation from the Danish company in Thailand to apply for this at the Thai Consulate in Hvide Sande (This office is now closed, and the consulate is now in Copenhagen).
Thai VISA came into place
I called out there and they were very helpful in telling me what to include in applying for this visa. I drove to Hvide Sande myself and got my visa of approx. half an hour. Then it was in place. A great relief and a great step on the road to Thailand had now been taken.
After a while searching the web, I got a few phone calls with various insurance companies. I also inquired with those I knew who lived in Thailand, opted for insurance with BUPA for the first time over there.
After all, I should have something to live in, and so they have started looking for the company I work for. I had gradually been sold out of what I could easily do without, and thrown out the rest of my storeroom, so that was controlled as well.
Now I should have just sold my car and a trip to the National Register to report relocation to Thai address, but there I just had to find a place to stay over there first before I can do this. The next step was to start packing the clothes I didn't need and my kitchen things down.
So these things were ready to be driven out where I needed to have my stuff stored because then I could move my furniture and the last thing in one read a few days before I left to travel. In fact, it was a little strange feeling to pack these things, not knowing when and if I would ever come back to Denmark to stay again. But time must tell.
Your life is full of priorities
When I said yes to the job in Thailand and to move there to live, I met many different attitudes to this. Someone said … "We also talked about how you can afford to travel so much around the world and experience a lot".
I then had to tell them that I prioritized living in a cheap rental apartment in a housing company and prioritized spending my saved money on travel and experiences instead of tying the money in a house or an expensive car, or whatever can now otherwise spend his money on.
After all, you prioritize what you want and when you want it throughout your life. Walt Disney was once quoted for the following quote: "All of our dreams can come true if we have the courage to pursue them," and I can only correct him.
I have been told several times that when I traveled so much and experienced so much, I did as everyone else went and dreamed of doing. Well, that was nice to hear, but I just couldn't quite understand why the others didn't just jump into it and did the same thing when they were dreaming of doing the same. Again, it was a matter of priorities in life.
Several also said that it was a slightly crazy decision then, and I could only give them the right, but I also thought it was a pretty crazy decision to have children for example. It's not that wilder, either. And if I suddenly get homesick and need to come back to Denmark, then it is just to buy a plane ticket home and then take it as the experience was.
Fortunately, I have been backed by most of the people around me who just thought it was cool that I dare take the plunge and jump into the unknown. While others stand more hesitant and shake their heads and say what it is for something I have got going.
However, I choose to believe that it is because they do not have the courage to do the same, and peace be with it. I will add more to my story of the pursuit of happiness by living out my dream of working and living in Thailand as I move forward in the plan. When I wrote this story there were 5 weeks until I moved to Thailand.