Christmas in Thailand the Danish way
Christmas in Thailand – You can easily celebrate Christmas in Thailand in Danish. I have now been in Thailand for a year and 2 months and I have experienced celebrating Christmas here in Thailand 2 times. The first time I sat in my apartment in Jomtien / Pattaya, alone, waiting for it to be December 25, so I could go to my favorite island here in Thailand, namely Koh Chang.
Stable Lodge in Sukumvit Road Soi 8, Bangkok
Christmas in Thailand can be a lot of fun. That was fine enough because I had only been here for a few months, so everything was new and exciting, and Christmas was pushed a bit into the background, as it is not quite easy to get in the Christmas mood in 34-degree heat. Got a single gift package sent from DK and it was definitely a good thing. It also turned into a single Christmas card. But a little strange to celebrate Christmas here without being in DK. Check my Danish website here.
Christmas in Thailand is a lot of plastic and can be a special sight to see a fully decorated Christmas tree on the beach at 30+ degrees Celcius. – But no problems here, because the next day I was on the tropical island of Koh Chang just before Christmas in Thailand. Before Christmas in Thailand and after that holiday they still have a lot of Christmas decorations. Sometimes it is all year around.
Christmas in Bangkok Thailand
Christmas in Thailand 2014 in Bangkok – Many things have happened since last Christmas, and I have, among other things. had a steady boyfriend for almost 10 months, making life something more interesting out here. But of course, it depends on who you are and what you want with your stay in Thailand. I have a great time with a Thai girlfriend, and she makes many things much easier for me as a Dane in Thailand.
Foreign Christmas in Thailand

Enough about that. As I said, Christmas in Thailand can be experienced in several different ways. Last year, as previously written, I spent the Holidays in Thailand in Jomtien / Pattaya alone and without Christmas food of any kind.
When you have your Christmas in Thailand – This year I celebrated Christmas in Thailand in Bangkok, and here we reserved a table at the Danish-owned hotel Stable Lodge on Sukumvit Soi 8 in Bangkok. Read more about living in Thailand here.
I did not really know what to expect from this experience, so I chose to go in there with an open mind, and see what the evening had to bring.
Duck, roast pork, and rice a la mande in Bangkok
I would highly recommend that if you are going out to Bangkok on Christmas Eve the 24th. December, so leave well in advance, because the traffic is simply awful. Everything is quiet, and if you are in the Sukumvit area, you can easily keep completely quiet for 20-30 minutes at a time.
Very nice Danish Christmas food
When you have Christmas in Thailand, you very fast forget about Christmas because you are in a very hot clima. However, we finally arrived at Stable Lodge on Soi 8, which by the way is just opposite Soi 11, which is an excellent place to stay in a hotel in Bangkok, as this area is incredibly central in Bangkok, and with Sky-train right out on Sukumvit Road. We started by paying 1200 baht per. nose (approx. DKK 222), which the food cost per. person.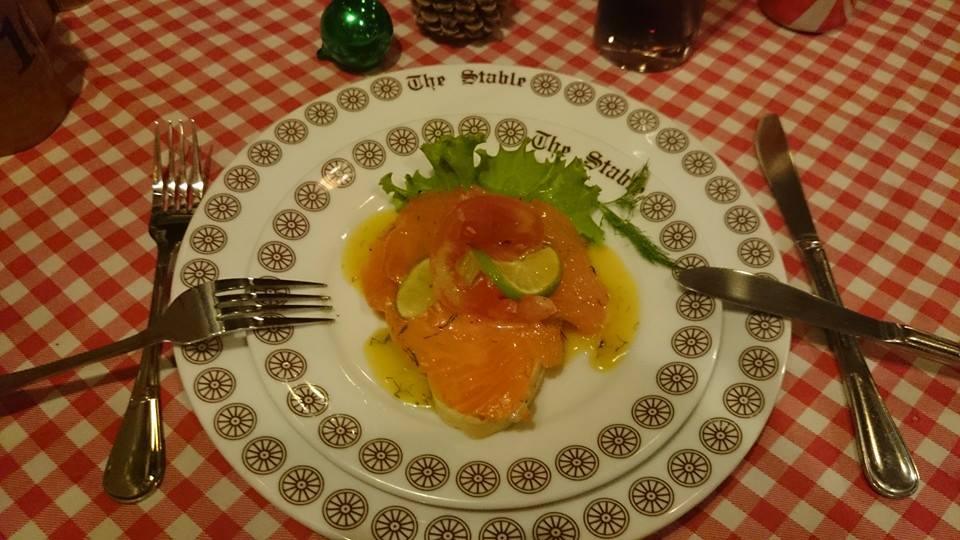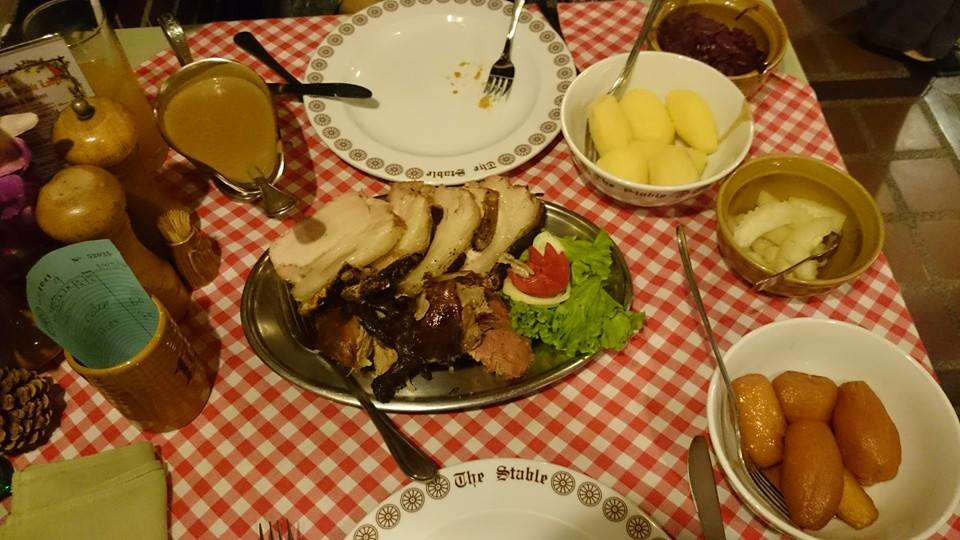 Christmas in Bangkok Thailand
The time for Christmas in Thailand is the best time of the year to visit Thailand. But then it was a duck, roast pork, white potatoes, brown potatoes, red cabbage ad libitum. For starters, we got French bread with smoked salmon, and for dessert, there was rice a la mande with cherry sauce. It all tasted great so the food we could not put a finger on. This can easily be recommended if you want Christmas in Thailand in Danish.
Christmas decorations in Thailand
I actually thought that the Thais make a lot out of the Christmas decorations in Thailand, even though it is not something that interests them very much. But what do you not do for tourism if it is a popular thing to do about Christmas in Thailand? So you can easily see a lot of Christmas decorations if you are celebrating Christmas in Thailand. Below you can see some pictures of the Christmas decorations I have seen on my way to Thailand.
Christmas in Thailand has everything you want, except for snow, but the Thais do a lot to make the tourists happy.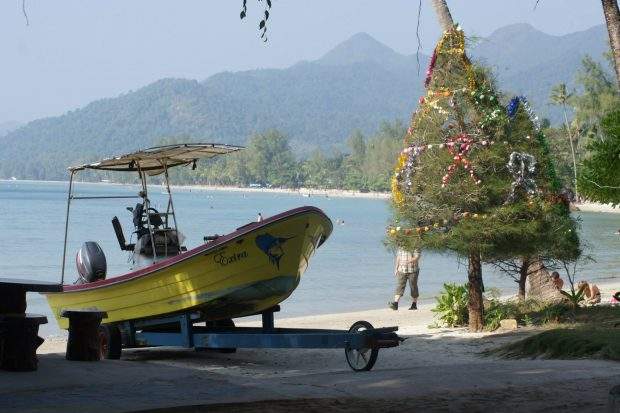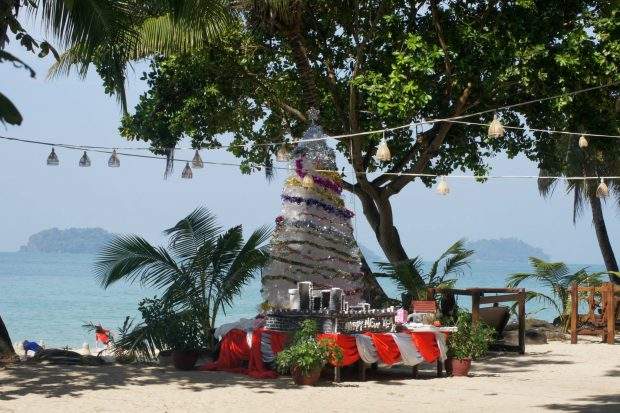 Christmas in Thailand can be a funny holiday. Some of the Christmas decorations in Thailand are incredibly beautiful, and some are totally tasteless, but they can also have their charm when you have to celebrate Christmas in Bangkok Thailand.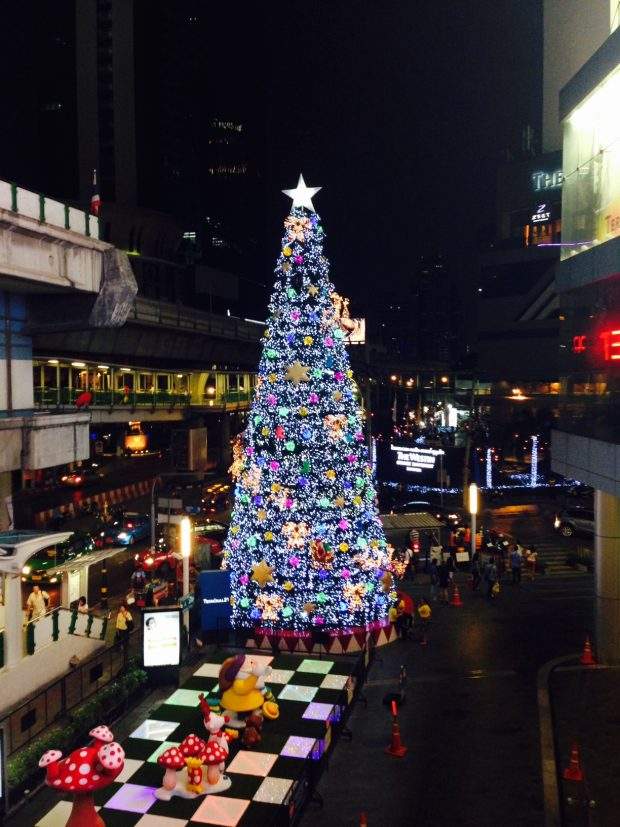 Holidays in Thailand
Don't worry about the holidays in Thailand if you are a foreigner. In Bangkok, you can have all kinds of food from all over the world. Except for the traffic in Bangkok.
If you have an appointment in Bangkok or a reservation in a restaurant do not use the roads. Use the Skytrain instead and you will be in time for your appointments in Bangkok.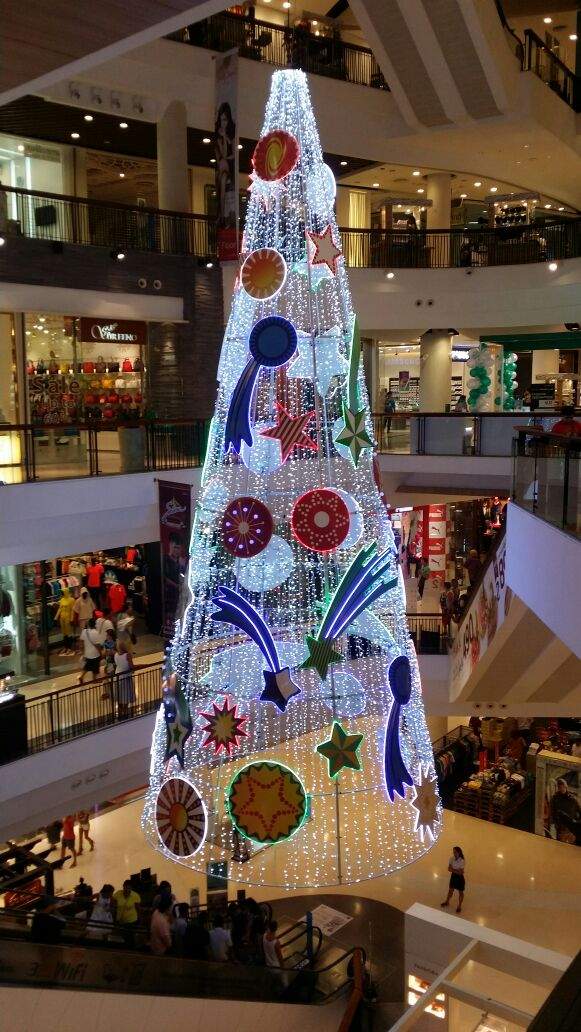 One thing is for sure when it comes to Christmas in Thailand. When I have the possibility to do it I will celebrate The Holidays in Thailand again. Exactly as I tried many times before. In the year 2020 everything will be different during the Holidays all over the world. If you read this article around Christmas time, then I wish you a Happy Holiday.
Christmas in Thailand can be a fantastic experience without the cold weather, rain, snow, and dark days.