Fun facts about Thailand – The land of smiles
Fun facts about Thailand are collected on this page with love and respect for the land of smiles. It can be a good idea to know these fun facts about Thailand before you visit the land of smiles. One thing is that it is fun facts, another thing is that it is sometimes only fun facts for foreigners that visit Thailand.
A lot of the facts are really serious matters for the Thai people. So please have respect for some of these fun facts about Thailand when you visit the kingdom of Thailand.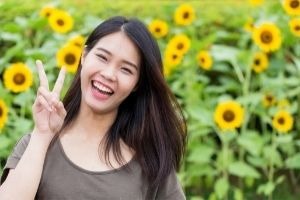 It is impossible to hang the Thailand flag upside down
The Thai flag is symmetrical, so it'll look the same even when you turn it upside down.
It is said that in 1917, King Vajiravudh (Rama VI) saw the flag hanging over his head during a flood. Since this would like to avoid having to happen again, the king designed a new symmetrical flag that will always be with the right side up.
The middle color was previously red but was changed to blue later that year. Red symbolizes the nation, land, and people. White represents the purity of Buddhism, and blue symbolizes the monarchy.
What is Thailand known for?
Thailand is known for its amazing tropical beaches and many beautiful temples, elephants, kickboxing, and friendly, generous, and smiling people.
Thailand used to be known as Siam
In 1939, Thailand changed its name from Siam to Thailand. It was again changed for a short period back to Siam between 1946 and 1948. Finally, the country switched back to Thailand, officially the Kingdom of Thailand, in 1948.
Driving without a shirt is illegal in Thailand
It is illegal to drive without a shirt in Thailand, and the penalty can include jail time. The law applies to both motorists and scooters, so be sure to wear a shirt before driving, no matter how hot the weather is.
Thailand is the birthplace of the energy drink Red Bull
The Austrian entrepreneur Dietrich Mateschitz was in his time inspired by an already existing Thai energy drink called Krating Daeng. He adapted the ingredients to the tastes of the Western consumer and founded in Austria the Red Bull company in collaboration with Chaleo Yoovidhya.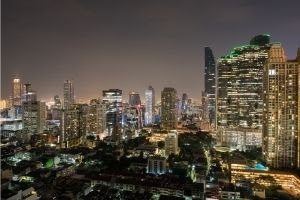 Bangkok has the highest temperature in the world
With an average temperature of 28 degrees, Bangkok is the hottest city in the world (Temperaturewise).
It is illegal to step on any Thai currency
It is illegal to step on Thai money (baht). You could actually risk going to jail for this. This is because the king's face is printed and engraved on Thai currency, this applies to both banknotes and coins. It is not difficult to obey this unusual law, but it is a good idea to keep this in mind. So if one of your Thai coins or banknotes falls out of your pocket, avoid stepping on them to prevent it from flying or rolling on the floor.
Over 90 percent of Thais are Buddhist
Theravada Buddhism is the dominant religion and makes up over 90% of the population. The remaining Thai population is divided between Malaysian Muslims, Christians, and other religions.
Over 10% of the entire population of Thailand lives in Bangkok
There are over 10 million Thais registered in Bangkok. However, not everyone physically lives in Bangkok. They may have temporary residence in other provinces due to their work situation.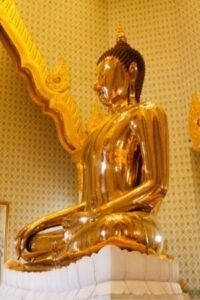 Thailand is the home to the world's largest solid gold Buddha
You can see the big gold buddha in Bangkok's temple, Wat Traimit. It weighs an impressive 5.5 tons and is worth millions of dollars.
The Thai language has 76 letters
It is a very tonal language and therefore very difficult to learn Thai. Unless you're good at bending. There are 44 consonants and 32 vowels.
The orchid is the national flower of Thailand
Thailand's national flower is the Orchid aka Ratchaphruek in the mother tongue. If you need to give flowers to a Thai person, this flower will bring great happiness.
Thailand's most expensive fruit is at the same time the fruit with the worst smell
Durian fruit smells so bad that it's actually banned in a lot of places. It smells very bad. Despite its aroma, it's highly sought after and sells for as high as $100 USD for one fruit (about the size of a small watermelon, but with spikes).
Logging is banned in Thailand
In 1989 Thailand banned logging. That is why you often see houses and buildings built around threes in Thailand.
Thailand is a country on the Asian continent in a region called Southeast Asia
Thailand shares a border with 4 other countries: Myanmar, Laos, Cambodia, and Malaysia.
The temples on the Thai currency are all located in Bangkok
There are an estimated 40,000 temples in Thailand! Do not forget to bring a shirt (covering your shoulders) and wear long pants if you are planning to visit a temple in Thailand.
Thailand's national anthem is played before all movies are shown in theaters in Thailand
Everyone in the cinema gets up during the play of Thailand's national anthem to respect the King of Thailand.
Most Thais have a nickname – Fun facts about Thailand
Most Thai people have two names – their full, official name and their nickname. But unlike in other countries where a nickname is usually only an abbreviated version of your real name, Thai nicknames are meaningful and chosen by the parents at birth.
Thai parents will often choose names with meanings in Thai or words that they like the sound of in foreign languages. Some common nicknames include Bank, Neung (en), Benz for boys and Tangmo (watermelon), Chompoo (rose apple), and Nan.
The Bridge Over the River Kwai still stands today
Do you know the movie "The Bridge over the River Kwai"? The famous Hollywood movie. You can find that bridge near the city of Kanchanaburi. The bridge was constructed as part of the Burma-Siam Railway by the Japanese during World War II, and an estimated 80,000 prisoners of war died during the construction of this railway.
Thailand is home to the world's largest snake
The reticulated python lives in various jungles of Thailand, and the largest found was over 33 feet long. However, it does not stop there. The longest venomous snake in the world, the king cobra, can also be found in Thailand.
Thai's Eat With Spoons And Forks
The first time you visit Thailand, it may come as a surprise to eat with spoons and forks. But the truth is that Thais only use chopsticks when eating Chinese food.
Otherwise, they use a spoon as their main tool for eating and cutting, while they use a fork to push food onto their spoon.
Thailand is visited by more than 6 million tourists every year.
Thailand is one of the most visited in Southeast Asia, where the number of tourists is gradually increasing year by year. This was before the pandemic hit.
Thailand hosts the world's largest water fight called Songkran
Songkran Festival, the Thai New Year starts every 13-15. April, when millions of Thais and tourists armed with water pistols spray each other in the streets across Thailand.
Thailand is the world's largest exporter of rice
By 2020, Thailand exported $ 3.7 billion worth of rice, about 15% of global production. In recent years, India overtook Thailand for the top position of the world's largest rice exporter.
Thais must always keep their head lower than that of anyone older or more important than them
The head is considered the most important part of the body. Should you meet someone who is older or more important than you, it is recommended to lower your head in awe to show proper respect.
Thailand has over 1400 islands
Phuket is the largest island and the most famous is Koh Phi Phi. Also know from a James Bond movie.
Over 12.500 7-Eleves stores in Thailand
The 7-Eleven is for Thailand what Mcdonald's is for the United States: There is ALWAYS a 7-Eleven nearby, and in most cities of a certain size you will find one on every street corner. For the Thais, it is not just a kiosk. The shop also functions as a post office, and they can even pay their bills and shop at 7-eleven. Incidentally, the stores have an insane selection of chips, spiced with everything from squid to seaweed.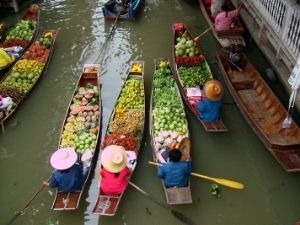 Bangkok was formerly called the Venice of the East
Floating markets are not only a tourist attraction but part of Thai daily life. If you want to see how Thai people shop for groceries, you must rise early in the morning to not miss out on a wonderful experience.
This was due to the fact that many of Bangkok's original buildings were built on stilts over the Chao Phraya River as well as the many meandering canals that were a significant factor in Bangkok's trading activities. Although there are still a fair number of beautiful canals in the capital where tourists and locals can enjoy boat trips, most of the canals were filled up and paved and have since become streets and sidewalks today.
It's illegal to not wear underwear outside your home in Thailand
How this law is otherwise enforced can be a good question. Another strange law in Thailand is that a person is not allowed to own more than 120 playing cards.
Muay Thai boxing is Thailand's national sport
Muay Thai boxing, also known as "eight-limb art", is the second most popular sport in Thailand after football (soccer).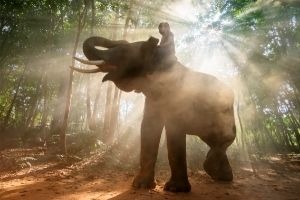 Elephants are a symbol of Thailand – Fun facts about Thailand
Thailand's National animal is the elephant. There are more than 5000 elephants in Thailand.
To greet someone in Thai, use the word 'Sawasdee' followed by 'Kah' for females and 'kraap' (soft r) for males
If you want to know more about Thailand and living in Thailand you can read my article about moving to Thailand here.
Read more about moving to Thailand here.