Living in Thailand
Living in Thailand – Pattaya is a city in the Thai province of Chonburi located in eastern Thailand. The city's population is over 100,000 and constantly increasing in number, as it is a popular place for Westerners to settle down, that is, to live in Thailand (Pattaya).
The city of Pattaya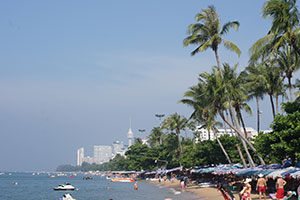 The city of Pattaya is a coastal city and faces the Gulf of Siam, which is part of the South China Sea. There are several smaller cities around Pattaya such as. Bang Lamung. In the past, Pattaya was actually only a small fishing village, until the rich in Bangkok "found" the area in 1960 and then began using Pattaya as a resort and living in Pattaya.
American soldiers affiliated with the U Ta Pao airbase in Rayong began using Pattaya for "Rest and Recreation" shortly after. Pattaya grew quite fast, not least because of the vibrant nightlife as well as the go-go bars. Why not move to Thailand?
Mass tourism in Thailand
After the Vietnam War, the Americans left the area, and this caused the city to be thrown into a crisis. Pattaya was subsequently discovered by European mass tourism, and although sex tourism is probably as visible.
So Pattaya is now trying to present itself as a suitable place for family tourism.
There are plenty of attractions for tourists who are not looking for partying and nightlife. Attractions include the Sri Racha Tiger Zoo, over 20 golf courses, the Nong Nooch Tropical Garden, and several family parks. So it is definitely a place for families as well as elderly couples.
If you want to move to Thailand – Pattaya / Jomtien
Living in Thailand – It's easy to find a place to stay in Pattaya and Jomtien. In fact, Pattaya and Jomtien are one of the places in the world with the newest construction, and trucks with cement fill a part of the cityscape here in the area.
But if you have made your choice and would like to move and live in Thailand (Pattaya), either permanently or for a period of time, here are some tips on what to prepare for and what expenses to expect each month when you want to live in Thailand, Pattaya.
Examples of expenses – living in Thailand
Deposit for apartment/condo or house (this is usually 2 months rent).
You can easily find a place to stay for 6000 – 8000 baht per. month (equivalent to 1200 – 1600 DKK.) if you want to save on that item.
If you choose an apartment/condo for 10000 – 15000 baht (2000 – 3000 DKK), then you get a significantly better place to live. (If you are lucky, then it is with sea view).
Internet at 3BB costs 630 baht per. month (10 Mbit download and 0.5 Mbit upload).
If you need to have this internet, then you usually commit for a year and if you want to get rid of a large deposit then get a Thai person to help you set up in his name.
TV package with 100 channels costs 300 baht per. month, and here you commit for 6 months at a time.
All apartments/condos are furnished when you rent and want to stay in Pattaya.
In most places, it is + power, but there are also places where it is included in the price if you want to stay in Pattaya.
Rent a scooter. It's the easiest way to get around Thailand – Monthly price is 1500 – 2500 baht per. month if you rent for a longer period.
Buy a scooter – These can be used for between 8000 and 30000 baht in an okay condition – remember insurance.
A scooter is typically 125 cc or 135 cc at the above prices.
Accident insurance usually costs around 25000 and 37000 baht for a year – The most used is around 35000 baht (Bupa etc).
If you want to open a Thai bank account it can be done without any hassle. (You must deposit a minimum of 500 baht to set up an account at Bangkok Bank), and have address proof from immigration + your passport.
In Kasikorn Bank you must deposit 10,000 baht when you open your account + 800 baht for the card itself and have address proof from immigration + your passport.
You need an International driving license which can be set up at your local town hall in Denmark (it costs DKK 25)
You can get a Thai driving license and "swap" right over with the International driving license for approx. 350 baht.
If you do not have these driving licenses and you are stopped by the local police, it usually costs between 400 and 600 baht in fines.
We can also recommend that you have saved up a little in advance, so you are prepared for unforeseen expenses.
You must also remember to keep track of your Visa – The Thai Consulate – Click here!
If you move to Thailand, it is a great advantage to first find a job where you can get a work permit.
ALWAYS remember to have a plan A, B, and C 😉
Read my Danish website here janb.dk.